Vivace Microneedling Treatment in Philadelphia, PA
If you're searching for professional microneedling services in your area, then About Face SkinCare's Vivace procedures are a great choice. As the latest generation of FDA-approved radiofrequency microneedling, this minimally-invasive procedure offers superior results.
Vivace procedures are the only microneedling treatment services with a precision robotic motor that lowers discomfort compared to any other microneedling options currently available on the market. In addition, our Vivace microneedling treatment in Philadelphia, PA, is both immediate and ongoing, so you'll experience long-term improvement and instant results! Transform the look and feel of your skin with this cutting-edge procedure.
Why Choose Our Vivace Microneedling Treatment in Philadelphia, PA?
Alleviate Wrinkles & Fine Lines
Tighten Skin
Minimize Pore Size
Improve Skin Tone & Texture
Immediate Results
No Downtime
Virtually Pain-Free
How Does the Vivace Microneedling Treatment Services Work?
Collagen Induction Therapy by Microneedling Multilevel RF
After it is applied to topically-numbed skin, the sterile microneedles are used to create microscopic channels in the dermis of the skin. These channels stimulate collagen production in the body. During this time, the radio-frequency energy is delivered to varying depths of penetration throughout the skin.
Wound Healing Mechanisms by Multilevel RF Energy
The Vivace microneedles are insulated except for the endpoint, and electrodes of the microneedle deliver bi-polar energy into the dermis. This thermal energy facilitates a natural wound-healing process that promotes the remodeling of collagen, elastin, and wound contraction, which enhances skin laxity.
Blue & Red Light Emitting Diode
During our Vivace microneedling treatment in Philadelphia, PA, pulses of light activate skin cells to continue increasing collagen production and moisture levels in the skin to enhance texture and tone.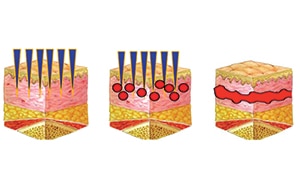 Vivace Microneedling for Acne Scars
Tired of being embarrassed by the acne scars on your face but aren't sure how to address them? Our team knows how and has experience helping countless clients with their acne predicaments. With our Vivace microneedling for acne scars, you can look forward to clearer, more radiant skin.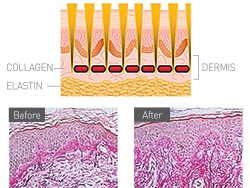 Vivace Microneedling for Skin Tightening
Additionally, our professional microneedling services can also help tighten skin. Anyone who is experiencing sagging skin or wrinkles—due to age or other factors—can schedule a visit to About Face Skin Care's office for this cutting-edge procedure. While we can't turn back time, our Vivace microneedling for skin tightening technology can help restore youthful smoothness to your skin.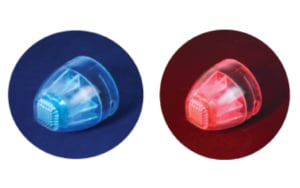 For Professional Vivace Microneedling Treatment in Philadelphia, PA, Contact Us Today
No matter why you're considering microneedling treatment for your skin, professional procedures are only a phone call away for Philadelphia residents. At About Face Skin Care, our team is dedicated to going above and beyond for clients so that they have the best Vivace experience possible. Further, we offer numerous other services like SkinPen microneedling and so much more. Also, consider browsing our before and after photos to see how we've helped transform the skin of past clients.
Want to learn more about our Vivace microneedling treatment in Philadelphia, PA? Feel free to call today for further information, schedule your appointment, and receive a complimentary consultation.